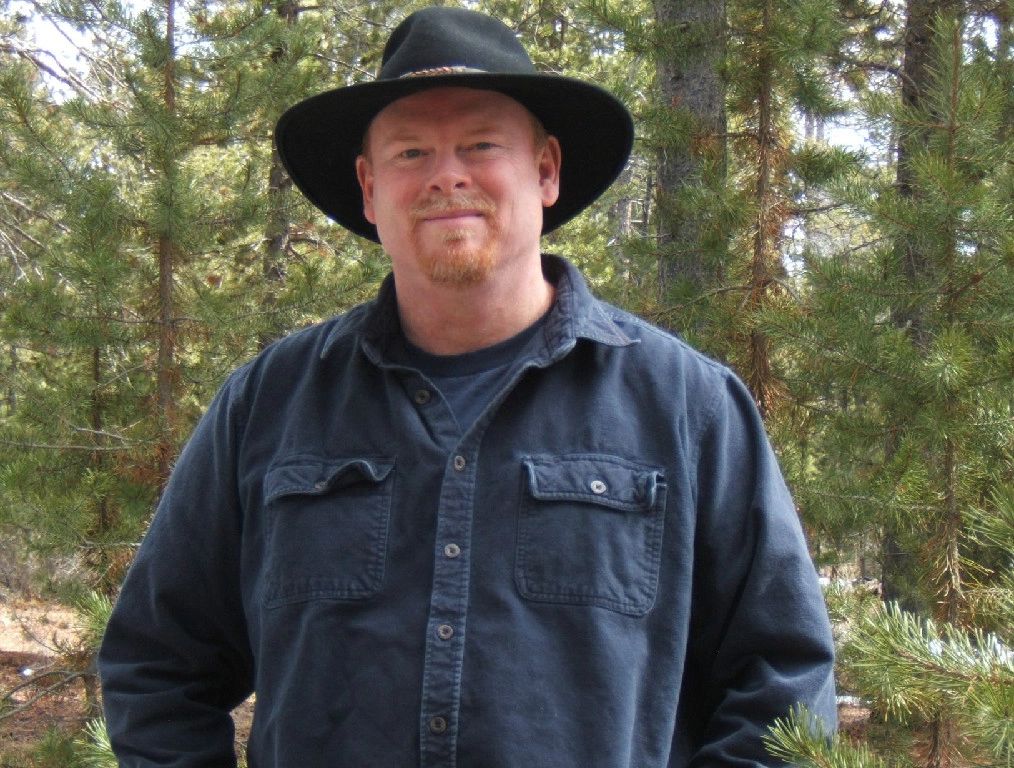 at home in his woods 2015


Author Wesley Murphey
Wesley Murphey grew up in Dexter and Pleasant Hill, Oregon, and graduated from Pleasant Hill High School in 1975. He then served four years in the U.S. Navy as a navi­gation specialist aboard a fast-attack nuclear sub­marine. After serving Uncle Sam, he returned to Lane County and lived there until 2003. He spent seven years in college, earned two degrees, a BS and an AAS. He sold his first outdoor article in 1991, and has sold many articles since then. He wrote and published his first book, Blacktail Deer Hunting Advent­ures, in 1994 and his second book, Conibear Beaver Trap­ping in Open Water, in 1996. Revised versions of both these titles came out in 2014. Note brand new revised 2018 revised edition of the Blacktail book is now out.
Murphey moved his family to Central Oregon in 2003, where he now lives on their beautifully wooded 5 acres near La Pine. He said, "I always loved coming up to the mountains to camp, swim, fish, hunt, hike and pick mush­rooms." He has a son, a daughter and one granddaughter, "Brooklyn," who is "a huge blessing from heaven."

Murphey's love for writing began at an early age. As the son of accomplished writer Don Murphey, Wesley wrote his first story in 8th grade. "Fortunately other teachers gave me more encouragement than the one who graded my marathon story. I'll never forget when my seventh grade English teacher at Pleasant Hill, Mrs. Jan Jackson, penned 'Fantastic!' on a one page paper I wrote. I thank God for teachers like her and for Trudy Kutz, the professor in several of my college writing classes."
Murphey's first novel, A Homeless Man's Burden, 2011, is based on an actual child murder that occurred in a bean field near Dexter, Oregon in 1960. The real case was never solved, but in Murphey's book the killer is found. He said, "I later picked for many years in the field where Alice Lee was killed, and as a teenager I worked for her father. There is fact in my book, but the fiction really brings the story to life." A revised edition with new cover came out in 2016.
Trouble at Puma Creek, also 2011, is a historical suspense fiction story whose idea came from an actual double homicide that happened at Puma Creek in Oregon's Fall Creek Forest. Three of the main characters are Viet­nam veterans, while the detective is a Korean War vet. The book deals heavily in Vietnam War and post War issues, particularly the POW/MIA problem, and gives the reader an excellent feel for the trauma experienced by many Vietnam veterans and their families. "This book takes the reader back to when it was not okay to talk about the Vietnam War, or to be a Vietnam veteran, when hippies flourished, and the U.S. Presidency was in shambles."
In 2012 Lost Creek Books released Murphey's novels, To Kill a Mother in Law, and Girl Too Popular. The Mother in law story occurs in Washington State; Girl takes place in Oregon's Douglas County. Both books deal with family and interpersonal conflicts presented through unusual and drastic circumstances, but the Mother book is graphic. Character names and the locations are different, but readers will see a connection between these books.
In 2013 LCB released Volumes One and Two of Fish, Hunt and Trap a Little: True Tales and Tactics that include many previously published articles—and many new ones too—in which Wesley and his now-deceased father, Don Murphey, charm, entertain and inspire you with stories filled with nostalgia, tactics, humor and how-to information. Volume Three of Fish, Hunt and Trap a Little will come out sometime in the future.